Treetop Villas - LOCATION
Treetop Villas is located at Coronado st., Mandaluyong City.
Situated right in the heart of the country's most populous and most developed region, Mandaluyong City is one of Metro Manila's most dynamic cities where progress and inclusive growth can be observed. This city is attractive not only to individuals and families looking for the perfect place to buy and build their dream homes, but also to investors, entrepreneurs, and companies looking for a strategic location to expand their business in the metro.
Mandaluyong is also known as the Philippines' Tiger City—this city is indeed one of the country's economic hotbeds, with numerous commercial and industrial developments within Mandaluyong, including the Ortigas Center. This premier business and commercial district is a hub that Mandaluyong shares with neighboring Pasig City, and boasts of numerous office and residential buildings, as well as upscale lifestyle destinations such as The Podium, the Shangri-La Plaza EDSA, and the SM Megamall, which is also one of the largest shopping malls in the country.
One of the best things about Mandaluyong City—and one of the primary reasons why the city has consistently attracted developments and investments from local and foreign businesses—is its strategic location. Mandaluyong boasts of proximity to just about any major district in the whole Metro Manila. This tiny economic powerhouse is nestled between San Juan City in the north, Makati City in the south, the City of Manila in the west, Pasig City to the east, and Quezon City in the northeast.
Mandaluyong City is one of the smallest cities in the entire country, clocking in at a mere 11.06 square kilometers (or 4.27 square miles). Yet this city remains to be one of the most sought-after residential area for Filipinos who want to lead dynamic and comfortable lifestyles right at the heart of Manila. Suntrust Properties, Inc., a wholly-owned subsidiary of renowned property titan Megaworld Corporation, recognizes this demand for reasonably priced yet high quality properties in Mandaluyong City, and thus has designed and developed a vibrant and exciting yet tranquil residential community in the city, called Treetop Villas.
Suntrust Properties, which was established in 1997, is one of the country's most trusted names when it comes to self-sustaining residential communities in key areas in the Philippines. The company is best known for sprawling subdivision developments in southern Luzon and even as far away as Central Visayas. Most of the real estate projects that Suntrust Properties has designed and developed in Metro Manila are stunning and spacious condominium properties that combine space-saving features that deliver true and comfortable function. The best part about Suntrust Properties projects is that their units are not only well-appointed, but affordable for many Filipinos as well. They have never failed to deliver a high standard of comfort and style to low-to-moderate income Filipino families and young professionals, making Suntrust Properties the developer of choice for well-appointed condominium units that will not break the bank.
Located along Coronado Street in Barangay Hulo, Treetop Villas is truly a comfortable and tranquil sanctuary that offers its residents a relaxing place to go home to, as well as convenient access to the metro's premier business districts, including Ortigas Center, Makati City, and Bonifacio Global City in Taguig.
At Treetop Villas, residents will find a life in full bloom—they can bask in the beauty of a thoughtfully designed community where they enjoy luxurious amenities and instant access to the comforts and conveniences of modern city life. This 6,122-square meter property is specially designed development with nature and greenery as its main theme, as evidenced in the pristine landscaping surrounding Treetop Villas. This property consists of one residential tower broken into three clusters.
The first cluster boasts of 10 floors with 27 units for the first nine floors, and 24 units at the top floor. The second cluster offers 19 spacious units in its first 11 floors, and 18 units at the top (12th) floor. Finally, the third cluster has 19 units per floor on its first 11 levels, and 17 units at the top (12th) floor. These clusters are serviced by seven high-speed elevators for the residents' convenience.
All the units offered by Treetop Villas are spacious two­-bedroom models, ranging from total floor areas of 30 to 33 square meters. These units come with two bedrooms, a toilet and bath, cozy living, dining, ad kitchen areas. Treetop Villas' units are thoughtfully finished with ceramic tiles in the living, dining, and kitchen areas, as well as high quality vinyl planks in the bedrooms. The toilet and bath is also finished with sturdy and high quality ceramic tiles. The kitchen, on the other hand, boasts of custom built counter kitchen cabinets, and residents have the option of expanding their kitchen storage space with overhead cabinets.
Both the kitchen and the bathroom of these two-bedroom units come with mechanical ventilation to keep the air circulating properly, and provisions for air conditioning units are found in both bedrooms.
Aside from these spacious and well-designed units, Treetop Villas residents will also get to enjoy a number of resort-style amenities within their community. These amenities include a clubhouse, which also serves as the community's multi-purpose function hall, an adult swimming pool, a kiddie pool, cabanas, pool lounge and deck, a playground, sitting areas and courtyards charmingly covered in trellises, and a beautifully designed entrance gate with its own guardhouse.
This residential condominium community also boasts of low density buildings, with around half of the entire property dedicated to wide open spaces, amenities, and parks—living in Treetop Villas is like living in a tranquil sanctuary away from all the hustle and bustle of the city, and all within a few minutes away from Makati City.
Most of the units in Treetop Villas also offer treetop views of the city (which inspired the name of the development). This community is indeed one of the best residential options in Mandaluyong City, where residents can enjoy refreshing and comfortable community living, resort-style amenities, stunning views of the city, and close proximity to their workplaces.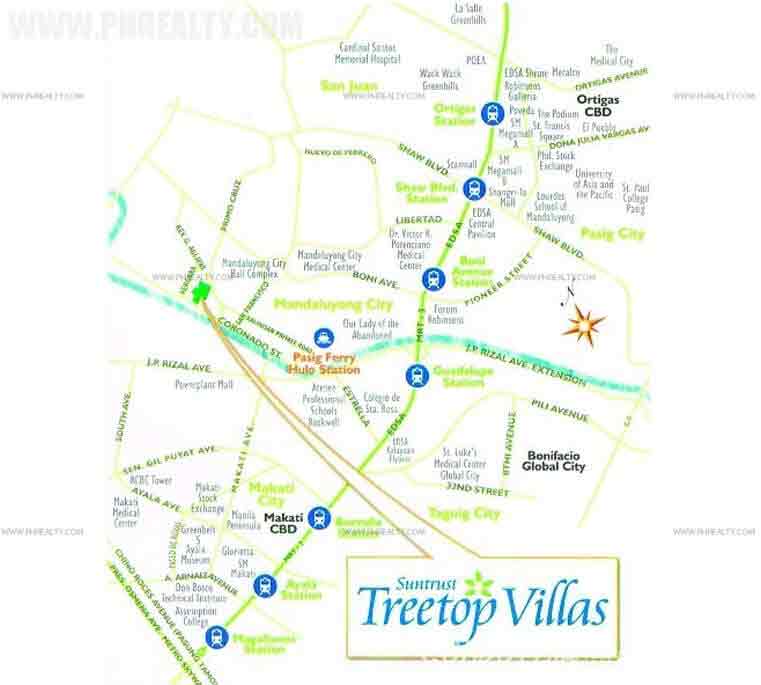 Living in the dynamic Mandaluyong City is truly an experience like no other—this city is a hotbed for residential, commercial, and industrial development that to its strategic location. Nestled in the heart of Metro Manila, Mandaluyong City shares borders with San Juan City in the north, the City of Manila in the west, Quezon City in the northeast, Makati City in the south, and Pasig City in the East.
This city—known to be the country's Tiger City—is one of the smallest in the entire Philippines, which makes it easier for residents to access the different corners of Mandaluyong. This accessibility and proximity to some of the metro's busiest and most important business districts make this the ideal residence for young urban professionals, newlywed couples, and growing families who want to lead a comfortable, convenient lifestyle right in the heart of a vibrant, dynamic city.
The closest business district to the Treetop Villas community is the Ortigas Center, which is also home to a wide variety of companies and corporations, including the Asian Development Bank, the San Miguel Corporation head office, and the Banco de Oro main headquarters.
Residents of the Treetop Villas will not only enjoy world-class resort-style facilities thoughtfully designed by Suntrust properties, but also quick access to a number of shopping and lifestyle destinations, including SM Megamall, The Podium, the Shangri-La Plaza EDSA, and Robinsons Pioneer Mall. All these shopping meccas offer a wide range of products and services, as well as a great mix of local and international brands and dining options.
On the other side of Ortigas Center is Pasig City, which is known for its office skyscrapers and the new Ayala Malls the 30th, a four-level shopping mall that sits on a sprawling two-hectare property with over 200 stores, restaurants, and service providers, as well as movie theaters, a gaming arcade, and unique entertainment facilities.
Makati City is within a short driving or commuting distance away, bringing residents of Treetop Villas closer to more exciting destinations. Makati City has several key areas, including the mixed-use development Ayala Center, the enclaves of San Lorenzo, Salcedo, Legaspi, and Urdaneta Villages, as well as the Makati Poblacion and Rockwell Center area. All these locations offer office spaces, exciting restaurants and shops, retail chains, and some of the world's most renowned luxury brands exclusively found in this premier city.
The fast-growing business district of Bonifacio Global City in Taguig is also close by. Aside from offices, Bonifacio Global City also offers an exciting array of lifestyle and leisure destinations that deliver unique, unparalleled experiences to the metro's well-heeled denizens.
Proximity to Metro Manila's main business districts means that residents of Treetop Villas never have to sit thrugh long commutes and heavy traffic, as they can quickly get to their workplaces in a relatively shorter time, all without hassles or worry over being late to work.
Another perk of living in Mandaluyong City is proximity to some of the metro's best schools, including Xavier School, Immaculate Conception Academy, La Salle Greenhills, Saint Pedro Poveda College, Dominican College, Lourdes School Mandaluyong, St. Paul Pasig, Don Bosco Technical College, Rizal Technological University, and Jose Rizal University—all within short driving distance from EDSA. Also accessible to residents of the Treetop Villas are Colegio de Santa Rosa, Assumption College Makati, and the Ateneo Professional Schools.
Mandaluyong City also puts residents within the vicinity of good access roads that link it to the rest of Metro Manila, allowing residents to go just about anywhere in the metro within a short amount of time. The Ninoy Aquino International Airport (the only international airport in the entire Metro Manila) is only 40 minutes away from Mandaluyong City.
Some of the major roads passing through Mandaluyong City are EDSA (Metro Manila's main thoroughfare), Shaw Boulevard, Ortigas Avenue, Pioneer Street, Julia Vargas Avenue, and Boni Avenue. Public transportation options passing through these roads include jeepnesy, tricycles, buses, and the MRT-3 Blue Line (Boni Avenue Station). Residents can also use the Pasig River Ferry Service to go to Pasig City and the City of Manila.